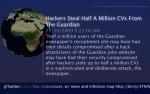 Team Cymru launched a Mac OS X screensaver that displays a global infection map on a rotating globe, together with a RSS and Twitter Feed. http://www.team-cymru.org/News/Screensaver/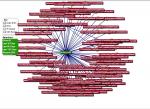 Hi all, Team Cymru has posted a movie of some of the visualizations we've made on youtube. www.youtube.com/watch?v=8IBy87mVpcw
This movie shows DDoS attacks, botnet command and control servers, malware relationships and similar visualizations.
Other visualizations that might be of interest :
www.team-cymru.org/Monitoring/Malevolence/irccnc.html
www.team-cymru.org/Monitoring/Malevolence/maps.html
Heatmap animation of worldwide compromised machines
Marcel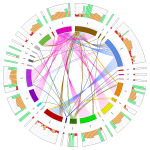 Mapping links between users sending inappropriate content via emails using Circos
fifth.sentinel
This tool walks the line of being a parser but it is a pretty handy way of converting Windows logins to something useful to graph. Put this in your login scripts and point it at your syslog infrastructure and you get all the gory details about windows who is logging into what system and the IP/NETBIOSNAME/MAC of the system is in a single log line.
Im just about to launch 2.1 version of Sphere Of Influence. I have added a summary page. Here I took a typical 800X600 window and made each pixel represent appx 164 ports. I wanted to visualize the entire port spectrum so that an anaylist can drill down on spotted patterns. I have included a screenshot of the new window...in this shot you can see some peer to peer activity at work. The new version will also have a "hourly wrap up" summary which is pretty extensive in its details, also I added a world map for snort. It should be launched in the next few weeks. Remember this is free for state, federal and educational establishments (worldwide)..companies have to pay, but for $89 I think you get a bargain. Im also working on a very cool project for VOIP systems.....stay tuned
www.manntechcomputersinc.com
Happy Hunting
Darren
Note: I have a new video out on youtube (http://www.youtube.com/watch?v=ekOXjrF9enI) that you can see the new visuals....release is very soon!!! (and we added the Cisco IPS into the mix as well)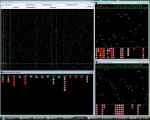 A 3d map of my network with nmap and mysql. We made it by using VRML.
So, the blue color is Windows computer and the red one is linux, the others in yellow are the printers (the eight is the number of the open ports)
It is very easy to compare two different scan (different days or weeks). When the cylinder is blue (microsoft computer) with a black cylinder, it is the different of port between the two scan, there is in this some new ports.
It possible to see it from fornt, up, left, right using vrml player.
:-))
This graph shows the statistical entropy of nine RDP sessions, as observed by net-entropy. There are two notable outliers - at this level of zoom, the black line is the most obvious. This was an RDP session to a server whose encryption level was set to "Low" - the other eight were to servers set to use "Client Compatible" encryption.
A second outlier appears at the beginning of the session (hard to see at this zoom level), and was due to the use of a different RDP client package. Further outliers (not on this graph) were observed when using rdesktop instead of the native Windows RDP client.
A fuller writeup is here.
I was culling through the logs on one of my systems the other day and realized that I was getting a fair amount of alerts from my Symantec A/V servers. At first, I was not interested in what malware was being detected and cleaned but it got me thinking about what interesting patterns existed. I suspected that the majority of malware infections were caused by a minority of users as most malware these days require some user action. To test this theory I wrote a simple parser
to convert the logs to something that I could push into a visualizer and started looking for interesting patterns.
Here is a histogram and a heatmap of several months of data.